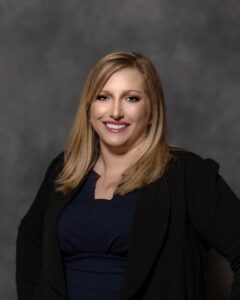 Jill Hogberg is a 2013 Gonzaga University School of Law graduate (cum laude). She has been providing family law representation throughout Northeast Washington since 2014. As your advocate, Jill prioritizes your goals and provides personalized, effective legal representation to help you achieve them.
Jill is committed to guiding her clients through these difficult situations, without adding to the problems they face. She has extensive experience in matters of child custody, non-parental custody (minor guardianship), high-asset litigation, high-conflict litigation, and alternative dispute resolution. Some of her most rewarding work involves establishing or restoring custody to a parent who has had their children wrongfully withheld. Jill also excels at finding undisclosed or underreported income and assets.
Jill and her family live in Chewelah, where there is never a shortage of outdoor activities to enjoy. Her young daughters can frequently be found raising and donating money to causes that support local children, particularly in the area of food insecurity.