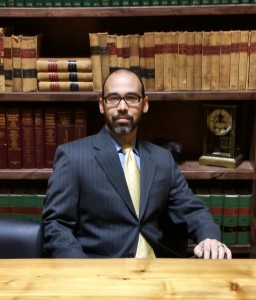 While I was born in the United States, I spent my early childhood years in Rome, Italy.  The exposure to such a cultural difference at a young age played an integral part in my decision to become a lawyer.  As a young adult, I was often called upon to act as mediator for friends and family because I was able to see the validity in aspects of differing viewpoints.  As a professional, this awareness has allowed me to both expose flaws in my opponent's arguments and help to strengthen my client's case positions overall.
After my family returned to the United States, we settled down in the desert of Las Vegas, Nevada.  This is where I was raised and met my bride-to-be.  In the spring of 2007, we were married on a 100-acre farm in the backwoods of Texas.  We then began our lives together in Austin, Texas.  As a young lawyer in a big city, I was often on the road or in a courtroom.   After our son was born, I decided that I did not want to be an absent father.  My wife and I agreed that we wanted to raise our family with a sense of community, an appreciation for nature, and a love for the great outdoors.  When the opportunity arose, the decision to move to Colville, Washington was easy.  The transition was seamless.  Colville has welcomed us with open arms and we are constantly discovering new ways to explore all this area has to offer.
I personally enjoy all types of outdoor activities, especially snowboarding, skiing, hiking, camping, kayaking, and rock climbing.
Professional Background
I completed my Bachelor's degree in history from the University of Nevada, Las Vegas in 2001.  Shortly after, I made the long trek from Nevada to Michigan in pursuit of a law degree.  In 2004, I received my law degree with a concentration in litigation from Thomas M. Cooley Law School.
Before graduating from law school, I worked for a law firm that only represented injured people against insurance companies.  I started at the bottom as a law clerk and did mostly research and writing.  Then, I became a legal assistant, and eventually a case manager.  After passing the bar, I worked solely as a claims attorney representing injured plaintiffs in all aspects of pre-litigation preparation.  Later, I moved on to working exclusively as a litigation attorney representing seriously injured plaintiffs at trial.
After years of successfully representing seriously injured clients, I decided to pursue an advanced law degree.  In 2014, I was awarded the degree of Master of Laws, magna cum laude, in International Taxation and Financial Services from Thomas Jefferson School of Law.
Today at Webster Law Office PLLC, I enjoy a balanced caseload of pre-litigation and trial work. Having developed both "muscles" of this legal field independently, I am able to foresee and avoid most pitfalls that may arise at each stage of the case.  It is this insight that allows me to prepare a case roadmap that is individually tailored for each of my clients.
I have been admitted to appear as an attorney before the United States Supreme Court, the United States Tax Court, and all state courts in Washington, Texas, New York, and Connecticut.