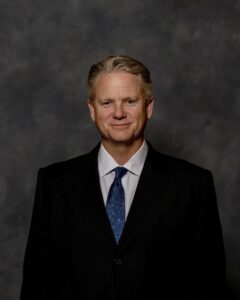 I spent my formative years here in the Northwest in a little town called Bigfork, located on Flathead Lake in Montana. It was during those years that I grew to love the mountains and all that this part of the country has to offer. There was rarely a time in my life that I did not dream of coming back to the Northwest. As fate would have it, in 2006 I was able to come back and start practicing law in the area. I live just outside Colville, with my wife and two children, on a piece of property close to my sister and her family. My sister is a Physician here in town and was my initial connection to Colville. My mother also lives here in Colville, and it's the first time we have all lived in the same town since I was in High School. It has been a welcome change.
I did my undergraduate studies at Cornell College in Mt. Vernon, Iowa. I double majored in Environmental Studies and History. When I graduated in 1996, I decided to start graduate school in Forestry at Michigan Tech University in Houghton, Michigan. I really loved it up there in the U.P., but decided to change course and continue my education by becoming a law student. I began law school in 1997 at Drake University in Des Moines, Iowa. I graduated in 2000 and began preparing for the Bar Exam.
I passed the bar in 2000 and hung my own shingle shortly thereafter. I decided early on that I did not want to sell my soul to a large firm. I wanted to have a life with my future family, and I didn't feel that that would mix well with 72 hour work weeks. I practiced successfully for 6 years as a General Practice Attorney in Des Moines, Iowa. I was involved in mostly litigation, spending much of that time in the court room on various civil and criminal cases.
During that time, my family was doing well, and my wife had no desire to move. However, the opportunity to finally be able to get back to my roots came. I convinced my wife to make the trek half way across the country to Colville. I worked with McGrane & Scheurman for over three years and, in 2009, made the decision to start my own practice here in Colville.
Mission Statement
In the overall practice of law, the courtroom is definitely where I excel. My goal is to provide the highest quality legal service through the use of my experience, ethical standards, and commitment to zealous representation in the courts. I enjoy the legal battle in the trenches, and I am dedicated to serving my clients in the most effective and efficient manner possible. However, as much as I enjoy the court room, I also understand that most cases should never see a trial. I won't fight for fighting's sake. I believe it is far more important to control the outcome of a client's case through careful case preparation, presentation, and negotiation. If the attorneys are the only people who have won at the end of a case, I did not do my job.